Sustainability Appraisal Scoping Report
Ended on the 30 October 2017
Education
Qualifications
4.60 Table 14 shows the qualification levels of each of the districts of the Ipswich Policy Area, ranging from 'no qualification' up to 'NVQ4 and above'.
4.61 More than one in five of the population in Ipswich has gained NVQ Level 4 although this is still the lowest number across the Ipswich Housing Market Area and in comparison with the East of England and Great Britain. At the other end of the scale, Ipswich also has the highest number of people with no qualifications although with the exception of Suffolk Coastal, Babergh and Mid Suffolk also have higher numbers of unqualified people than the regional average or expected in comparison with the rest of Britain. Overall in comparison with the rest of the region and Britain, Ipswich has lower levels of qualified people at all levels in 2015.
| | | | | | | |
| --- | --- | --- | --- | --- | --- | --- |
| Individual Level | Suffolk Coastal (%) | Babergh (%) | Mid Suffolk (%) | Ipswich (%) | East of England (%) | Great Britain (%) |
| NVQ4 and above | 36.7 | 23.4 | 29.4 | 22.5 | 33.6 | 37.1 |
| NVQ3 and above | 55.5 | 41.3 | 51.1 | 41.4 | 52.0 | 55.8 |
| NVQ2 and above | 72.4 | 68.8 | 70.0 | 63.0 | 71.5 | 73.6 |
| NVQ1 and above | 87.3 | 81.8 | 83.3 | 81.8 | 84.9 | 84.9 |
| Other qualifications | 8.7 | 8.9 | # | 6.9 | 7.1 | 6.5 |
| No qualifications | # | 9.3 | 10.0 | 11.3 | 8.0 | 8.6 |
Table 14: Qualifications of the resident population Jan 2015 – Dec 2015 [40] (# means the sample size is too small for a reliable estimate to be made)
4.62 Figure 21 overleaf illustrates the trend in academic achievement over 12 years, from 2002-2014. From 2002 through to 2012 the general trend is upwards, with the authorities across the Ipswich Housing Market Area broadly reflective of the regional and national statistics.
4.63 However, as of 2013 there is a significant decline in GCSE attainment (which also reflects the national picture).  The average figure for all of the authorities across the Ipswich Housing Market Area in 2013 was 71%, dropping to 63.7% in 2014. This is a very large fall in the number of pupils obtaining at least 5 A*-C GCSE grades. It can be explained by the Joint Council for Qualifications (JCQ) as a consequence of a large rise in the number of 15 year old pupils taking GCSEs compared to previous years (increasing 39% compared with 2012, to 806,141). JCQ also note other factors for drop in grades, such as; multiple entries in Maths GCSE, and harder science GCSE papers[41].
4.64 From the graph below, it is clear that most of the authorities of the Ipswich Housing Market Area, except Ipswich, sit above the regional and national figures in 2002. However, a significant rise in the regional and national attainment figures means that all the IHMA authorities now fall below the regional and national figures.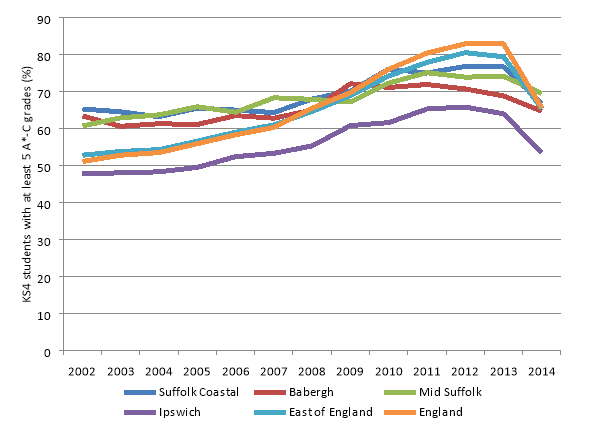 Figure 21: KS4 students receiving at least 5 A*-C grades, 2002-2014 (NeSS. 2014)[42]
School Leavers
4.65 Around half of year 11 young people in Ipswich move into sixth form education with 49.9% of pupils in Ipswich. However, this is below the Suffolk average of 53.2%.
4.66 The proportion of year 13 school leavers, at the end of A-levels leaving to go to university and specialist colleges for the Arts such as Conservatoire for music, dance and art colleges for example, is lowest in Ipswich (43.1%), and highest in Mid Suffolk (58.7%).Ipswich has a lower than average number of students going to university than the Suffolk average.
4.67 Year 11 school leavers that are not in education or employment (NEET) is highest in Ipswich (3.5%) and is significantly above the county average. Ipswich also has the highest level of students entering further education in comparison to the other authority areas in the Ipswich Housing Market Area and this is also above the county average.
| | | | | | |
| --- | --- | --- | --- | --- | --- |
| | Suffolk Coastal (%) | Babergh (%) | Mid Suffolk (%) | Ipswich (%) | Suffolk County (%) |
| Sixth Form | 62 | 57.9 | 55.4 | 49.9 | 53.2 |
| Further Education | 28 | 33.6 | 34.2 | 37.5 | 36.6 |
| NVQ2 Employment | 4.7 | 4.8 | 6.3 | 4.8 | 4.6 |
| GST Trainees | 0.6 | 0.8 | 1.4 | 2.6 | 1.3 |
| Non NVQ2 Employment | 0.6 | 0.9 | 0.3 | 0.7 | 0.7 |
| NEET | 2.1 | 1.3 | 1.5 | 3.5 | 2.1 |
| Unknown | 2.1 | 0.7 | 0.8 | 1.1 | 2.1 |
Table 15: Year 11 school leavers (Suffolk Observatory. 2014)[43]



Suffolk

Coastal (%)

Babergh (%)

Mid

Suffolk (%)

Ipswich (%)

Suffolk

County (%)

Higher Education

53.1

51

58.7

43.1

49.7

Gap Year

2.3

1.3

5.6

3.3

3.3

Sixth Form

9.4

17.2

11.7

14.5

13.4

Further Education

6.9

4.1

3.6

8.3

6.3

NVQ2 Employment

7.1

6.7

9.7

11.2

8.3

GST Trainees

0

0

0

0.2

0

Non NVQ2 Employment

9.7

14

5.8

11.9

10.6

NEET

4.4

2.5

1.8

4

3.5

Unknown

7.2

3.2

3

3.5

4.9
Table 16: Year 13 school leavers (Suffolk Observatory. 2014)[44]
4.68 In key stage 2, primary schools in Ipswich achieved an average of 53% of pupils achieving level 4 or higher in maths and English. This is slightly lower than the England average of 58%.
Online Education
4.69 There is a growing market for online education services. This links into digital infrastructure and the need for better broadband across the IHMA, especially in the rural areas. The ability to achieve high academic attainment through online resources offers rural communities more options when considering schooling and also alleviates problems on schools that are experiencing pressures on capacity. There is also improving capacity delivering higher education on-line nationally that can be accessed anywhere in the UK.
Educational Facilities - Schools
4.70 The number of school aged children and young people is growing as the county sees spikes in localised population growth, net increases in immigration and a large amount of new developments for the revitalised housing market.  Suffolk County Council is the Local Authority responsible for education provision.  Any new school that opens in the county must be an academy, free school or voluntary aided school.
4.71 The main urban areas and market towns are expected to accommodate major growth in the form of urban extensions or new communities.  These developments are usually on the periphery of towns and often some distance from existing schools and other community infrastructure.   
4.72 Patterns of population change will also affect Suffolk's local communities. In some areas inward migration is a major factor, particularly where new development is planned.  There is also inconsistency across the county in terms of future birth rates with some areas of the county seeing a decreasing population whilst other areas spike.
4.73 Suffolk County Council, in its Education and Learning Infrastructure Plan 2.1, produced in 2016 states that between 2015 and 2019 pupil forecasts show the total school population will increase by over 4,500 (5%) (primary age increasing to over 6%; secondary starting to increase in the next couple of years and continuing for at least the next 10 years). Within this growth there are particular growth 'hot spots' such as Ipswich.[45]
4.74 The maps overleaf in figures 22 and 23, show the 'hotspot' areas of the county.  The shaded areas are identified as having the biggest need for additional places across the county based on natural population growth.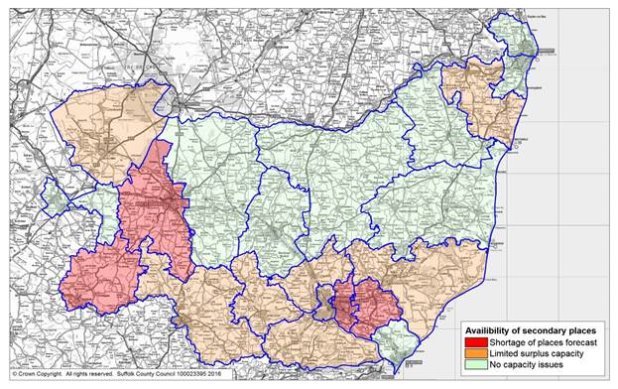 Figure 22: Availability of Secondary School Places, 2016[46]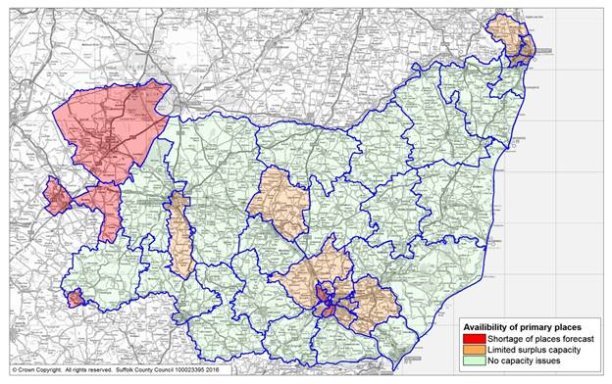 Figure 23: Availability of Primary School Places, 2016[47]
4.75 Ipswich is one of the identified hotspot areas of the county where growth in the number of school age children has seen a significant increase in demand for places across the town. In the last 3 to 4 years there have been 6 forms of entry (FE)* added to primary schools in Ipswich, which equates to around 1,260 additional school places as those forms of entry move up through those schools.
4.76 In terms of secondary provision, whilst the increase in primary numbers has yet to hit the secondary schools, Suffolk County Council expects the secondary schools to be nearing capacity in 2021/22. However, there have been hot spot areas across the town, particularly in the north east that have required some expansion. Northgate High School has recently taken an additional 1FE so that it is able to meet demand from its catchment area.
4.77 Whilst the expansions to primary schools have met demand in certain areas of the town there is still growth from inward migration and housing concentrated around the centre of the town and to this end a new school has been approved and is set to open in September 2019. The County Council, based on recent forecasting data, believe that a one form of entry school (210 places) is an adequate size to meet existing demand but that the school needs to be built to be able to expand to 420 places. This is in order to meet future demand based on the likelihood of the population growing again and to take into account those housing developments that are not approved and therefore do not feature in their data.
4.78 In terms of primary provision, there is also a potential expansion to Rose Hill Primary School (from 315 to 420 places) should developments in the area be approved. Suffolk County Council are also monitoring any potential growth at Ravenswood and in the area of Old Norwich Road.
4.79 Further primary school expansions, or even the planning for further new schools, will be dependent on further growth across the town.
4.80 For Secondary, to offset current demand in hotspot areas across the town, there are plans to expand two or maybe three high schools, but as yet these plans are not confirmed and may be dependent on developments being approved within, or on the outskirts of the town. 
4.81 The proposed development at Ipswich Garden suburb of around 3,500 homes will potentially yield 860 primary age pupils. Suffolk County Council are planning for three 315 place primary schools, plus early years provision, which are able to be future-proofed to expand to 420 place if necessary should further growth arise in the area. The plan is that one primary school will be built in each of the three individual developer areas, Henley Gate, Fonnereau and Red House.
4.82 The development is also expected to yield approximately 610 secondary age pupils. There will also be the aforementioned issue of latent demand as the secondary schools in Ipswich reach capacity due to the recent primary bulge in demand working its way through to secondary provision. Therefore, to offset the demand from the development and the latent demand there is the need for a new high school that will also be built on the Ipswich Garden Suburb development. This school will likely be built to accommodate 900 pupils with the ability to expand further as demand grows and to offset the possibility of further development.
4.83 There is the possibility that one or more of these schools could be a Free School but this is dependent on the government's future strategy regarding Free Schools and Grammar Schools.
Educational Facilities – Early Years
4.84 Suffolk County Council  is required to secure sufficient early learning places for eligible 2 year olds, estimated at 40% of the total 2 year old population, and all three and four year olds.  An early learning place is defined as 15 hours per week for 38 weeks of the year and eligible children are entitled to take up the place in the term after their second birthday.  This entitlement is aimed at our more disadvantaged families and impacts on the ability of the current market to deliver enough places in the localities where most needed.
4.85 In May 2015 it was announced that the government was doubling the provision of free childcare from 15 to 30 hours a week for three and four year-olds.  The offer, being introduced in 2017, will be available to families where both parents are working or the sole parent is working in a lone parent family.  This has huge infrastructure implications for Suffolk and work is underway to establish how this demand can be met.
Educational Facilities – Special Educational Needs
4.86 Suffolk is an inclusive authority with the majority of children and young people with a statement of special educational need placed in mainstream settings.  However there has been a sharp increase in the demand for out of county placements for children and young people with an increased level of additional requirements.  There are particular pressures across the county on the availability of Behavioural Emotional and Social Difficulties (BESD) and Autistic Spectrum Disorder (ASD) provision.
4.87 The collection of timely, robust and meaningful LA and partnership needs assessment data has proved difficult to access and as such the ability to predict the future needs of the children and young people across Suffolk has been problematical.  However, there is work being currently undertaken to remedy this and provide Suffolk County Council and its partners with the ability to better quantify with greater certainty, the future demands for specialist places.
Future Considerations
Meeting the shortage of education places in Ipswich
The impact of changes to school funding on education provision in the county
School capacity and building programmes
The impact of academies and free schools on the provision of education in the IHMA
Ensuring that children in the IHMA are getting a high quality education and raising standards of attainment
Identifying which schools can be expanded in terms of infrastructure, such as hall space, playing fields or access
Identifying the requirement for management and staffing for school expansion and/or new schools
Likely Evolution of the Baseline without the Local Plan
Risk of not matching supply of education facilities to meet the demand from new housing growth.
Ipswich will continue to have low levels of qualified people compared to the rest of the region and Britain.
The risk that investment in education infrastructure does not take place at the appropriate time and in the most appropriate location leading to shortages of appropriate provision.
Key data sources
Suffolk Observatory
NOMIS
NeSS
Suffolk County Council
Ipswich & East Suffolk Clinical Commissioning Group Operational Plan 2017/18 – 2018/19
Key Issues for the Sustainability Appraisal



Key SA issue across Ipswich and Suffolk Coastal

Ipswich Specific Issues

Education

The need to ensure the delivery of education provision in line with growth

Insufficient primary and secondary capacity in some areas of the Borough.

The need to ensure appropriate skills to match future employment needs

Overall in comparison with the rest of the region and Britain, Ipswich had lower levels of qualified people at all levels in 2015.
Table 17: Key Issues - Education

back to top
back to top